The world is at cross roads vis-a-vis the turmoil and conflict it is engulfing in the health of the masses which still has gaps and the delivery of health care is inadequate.The nursing professionals have emerged as 'Masiha' who despite of all odds still serve and address the discrepancies of our system with much aplomb and grace.It is with this insight we need to deepen in the budding nursing professionals by exposing them to rigorous academic program which empowers them with adequate knowledge   and skill to set up benchmark in practice.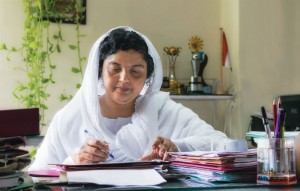 The day is not far off in India when nursing professionals will act as Nurses clinicians as in West to narrow this alarming gap and bring laurels to profession of Nursing Education and better health for humanity at large.Akal College of Nursing (ACN), Baru Sahib is unique indeed not only in terms of the divine pristine location but also as an emerging hub of academic excellence imbued with the spirit of humanism etched deep in its fibre.
Nursing Education at ACN has its impact in creating competent professionals who are committed to high degree of professional engagement and holistic healing. These emerging Nursing professionals need to be exposed to the inter-disciplinary approach of clinical research which will pave way for true scientific innovations for India as a nation. The order is tall, but worth exploring and achieving.
Let's hold hands and move towards much needed fresh and energetic innovations in Nursing Education.
Dr. Neelam Kaur
Dean Faculty of Health and Allied Sciences
Eternal University
Baru Sahib